---
June 25-26, 2010

Department of Archive
& Library Science
Postgraduate Program

---
ISIL History
2nd International Seminar on Information Law 2009
"A World for Information Law"
25 - 26 June 2009, Corfu, Greece
25 June 2009
---
Venue:
The Palace of St. Michael and George - Municipal Art Gallery
Time:
June 25, 2009, 19.30 pm
Opening:

Vice-Rector, University of Athens, Pr. Ioannis Karakostas
Chairman, Graduate Program, DALS: Pr. Spiros Asonitis
Introduction:
Pr. Herbert Burkett: A World for Information Law

Chairs:

Pr. Herman Tavani
Pr. Lambros Kotsiris

Speakers:

Pr. Bernt Hugenholtz, The Orphan Works Problem. The copyright conundrum of digitising large-scale audiovisual archives and how to solve it
Pr. Rafael Capurro, Information Ethics for and from Africa
Pr. Simon Rogerson: Is History Repeating Itself for Digital Beings?
June 26, 2009 Speakers:
---
Bergman Jackie, What's Love Got to Do with IT?
Dariwal Manju, Majumdar H. & Sharan R., Computer Ethics and other societies: relevance of ICT for India
Fragkouli Athina & Corrales Marcelo, Legal issues in biological databases: a sui generis approach
Vagena Euaggelia & Sinanidou Maria, Linking and Hosting: Copyright Issues
VanMynesgerghe Aimee, Classifying Service Robots for Policy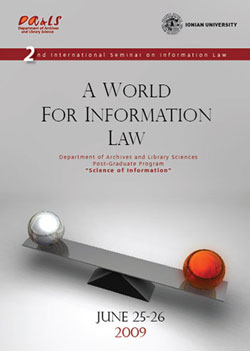 Executive Organizing Committee
Rania Konsta
Nikos Anastasiou
Gianna Siameti
Mairi Ampatzi
Xara Zarvala
Attachments:
Seminar programme inf law 2009

---
1st International Seminar on Information Law 2008
"The Changing Facets of Information in Information Law"
27-29 June 2008, Corfu, Greece
First International Seminar on Information Law 'The Changing Facets of Information in Information Law' Department of Archives and Libreary Science, Ionian University, Corfu Greece June 27-29, 2008
Speakers:
Gasser Urs, St Gallen University/Harvard University
Hatzimihail Nikitas, University of Cyprus
Hatzis Aristeides, University of Athens
Himma Kenneth Einar, Seattle Pacific University
Hugenholtz Bernt, University of Amsterdam
Palfrey John, Harvard University
Rogerson Simon, DeMontfort University
Shadlen Ken, London School of Economics
Bottis Maria, Ionian University
with the participation of:
Panayotis Vlamos, Ionian University,
Maria Daphne Papadopoulou Hellenic Copyright Organization
Maria Synanidou, Hellenic Copyright Organization
organizer/scientific responsibility: Maria Bottis, Department of Archives and Library Science, Ionian University
Executive Organizing Committee
Rania Konsta
Nikos Anastasiou
Meropi Ampatzi
Katerina Tzali
Print Design
: Roxana theodorou
June 27, 2008
The first presentation of the book DIGITAL NATIVES by John Palfrey and Urs Gasser
INSEIT Newsletter (including report on 1st International Seminar on Information Law):
Attachments:

International Conference on Information Law 2011

Visit ICIL2011 website
Video broadcast

Video page
See Also

cepe2009.ionio.gr